Hey folks, it's time to get excited not only because Bitcoin is circulating around $8000 but also because today we are going to perform our research on a fairly new coin! If you aren't pumped up already, here are a few reasons enough to brighten up your day.
This coin has increased its value by more than 90% during the past one month when the whole crypto market was bearish.
The coin has never had an ICO rather it was distributed among the newsletter subscribers by airdrop.
When we research a coin we always concentrate on the number of partnerships the coin has and this coin in question is developed to have partnerships with existing big brands. As a matter of fact they already have quite a few partnerships going on with many big names which are discussed later in this article.
I know many of the crypto enthusiasts have already guessed the name by now and yes it is "ONTology". Whenever a new coin enters the crypto scenario, we all get excited and rightly so as we are witnesses to the huge amount of return we got from currencies like Ethereum and NEO. But at the same time, conducting research on a fairly new coin and making informed decisions based on that research is an equally difficult task and if you fail to do your due diligence you might end up with a few more Bitconnects. Hence I choose to take the plunge of evaluating a very new coin which apparently seems to be very promising. So let's go ahead and examine ONTology from all the crucial aspects and as always it starts from the key people working behind the project.
The Key people: Onchain, the parent organisation of ONTology, have listed 40 people in their official website as key people and this list includes 26 developers. Although their team page doesn't have any social link of the team members but they have provided an extended bio of each team member. I quite like this strategy as you get to know how capable the team is from a single page but the obvious downside is that you don't get any proof of what is mentioned in the bio. Now coming to the founder of ONTology whose name is Jun Li and he comes with 16 years of experience in the IT and Fintech sector. Another team member who deserves mention is Andy Ji, Chief Strategy Officer of Onchain. He is equipped with a solid 8 years of experience in the financial platform architecture design and Blockchain technology and is a real asset of Onchain but the main person who can really influence your decision of whether or not to invest in Onchain is DA Hongfei. He is also the founder of NEO and has helped the Chinese Government create a healthy atmosphere for Blockchain innovation in China without the scammy projects. If this is not sufficient to satiate your curiosity, jump ahead and read our blog on NEO and you will get a complete picture of how important his association is with ONTology.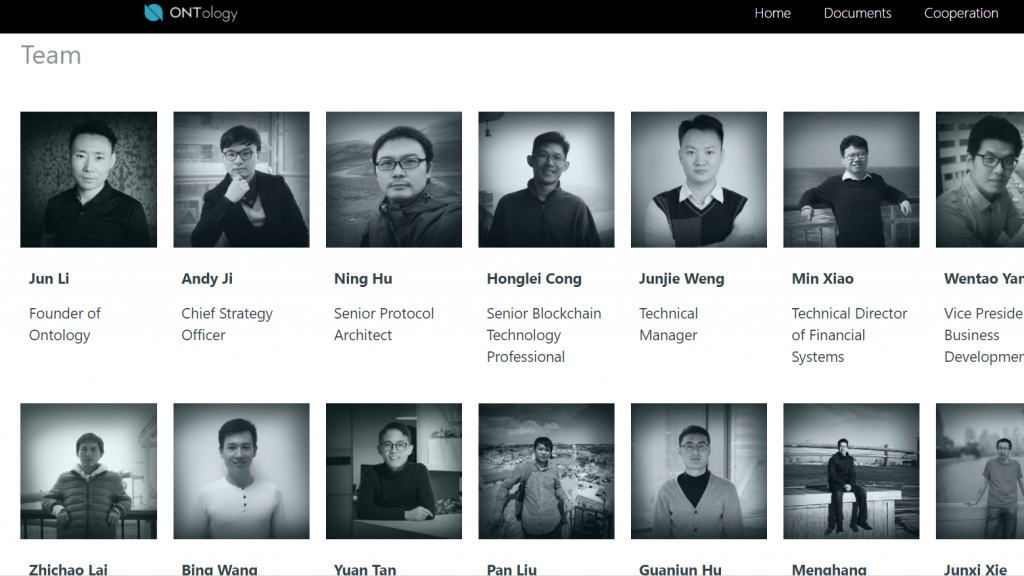 Before going into the details of our next section i.e partnerships, we must understand what goals Onchain has set for themselves to achieve. Onchain is helping existing businesses integrate blockchain technology with their already existing products by creating pluggable blockchain modules. So it's essential to understand the kind of support ONTology is enjoying from the big brands in their early stage. If Onchain fails to attract new brands in this budding stage then we might not see the rise in price of ONTology in the future.
The Partnerships: We will start with the most recent ones.
The biggest news came on the 11th of April when Onchain announced in their ONTology blog that they have partnered with many international companies to "explore application development, outreach, and incubation, and together build a new generation of public blockchain infrastructure and a distributed trust ecosystem to support real business applications and scenarios". The most important aspect of these partnerships is the geographic coverage of the partners and all the partners are venture capital firms. They have partnered with Tembusu Partners who will help ONTology acquire the southeast Asian market, Accomplice who will help build and expand the influence of ONTology in the United States and Israel and Hashed who will help ONTology strengthen its development and influence in South Korea and Northeast Asia. You can learn more about the partnerships here.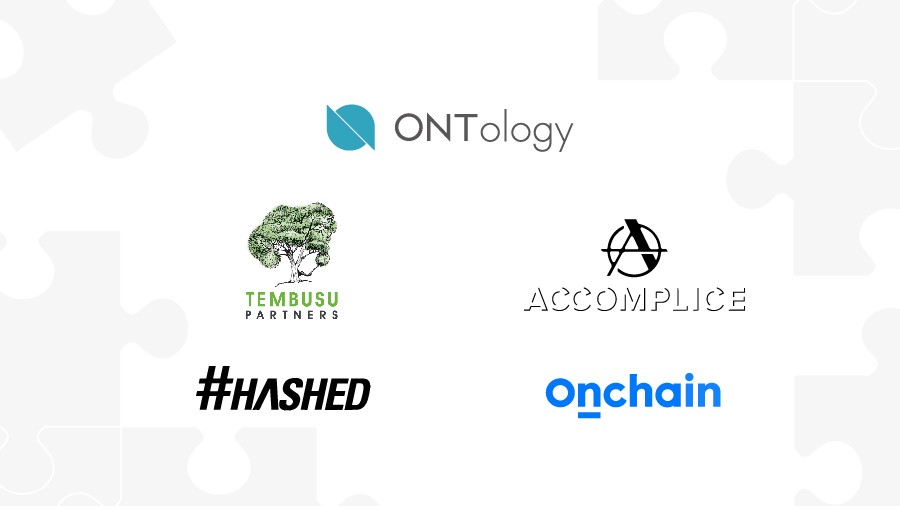 This is not the first time when Onchain has partnered with venture capital firms. On April 4th, 2018, they had officially announced another such huge partnership with four more VC firms Sequoia China, Danhua Capital (DHVC), Matrix Partners China, and ZhenFund.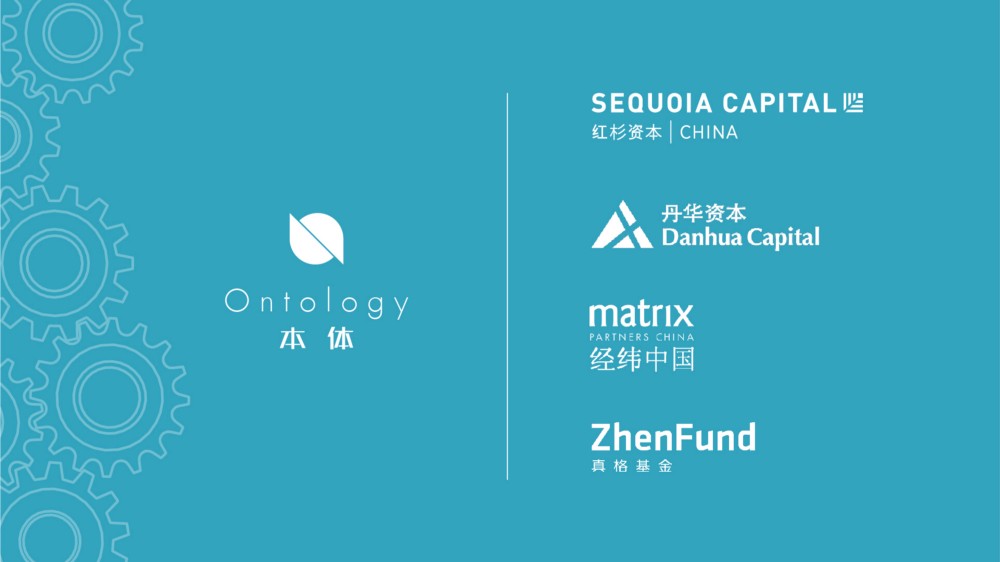 3. Strategic partner of  Microsoft China on multiple projects(recently Onchain's ONTology token got selected for Microsoft's Chinese accelerator).
4. Other notable partnerships include Hyperledger, Partnership with Alibaba to provide an email certification service for Ali Cloud and Investment from Fosun Group.
5. Onchain is One of KPMG's top 50 Fintech companies in China
The technology overview via their white paper: The Onchain team has created the ONTology token so that existing companies can easily integrate or migrate to blockchain solutions without understanding the underlying technologies in depth. So what does that mean? This means that it is not imperative to understand the exact technology they are using rather we should try and understand the problems that can get solved using ONTology chains. Onchain aims to cater to blockchain requirements of different businesses, which clearly means that since different businesses have diverse problems, Onchain must have several technologies in place to solve them. The following are what they have achieved so far:
Implementation of several consensus modules: dBFT consensus model is the first stable consensus model implemented by the Onchain team and is the same model that is used by NEO as well. They are also working on a new consensus algorithm module, VBFT, which is a new consensus algorithm module that combines PoS, VRF (Verifiable Random Function). BFT and TestNet will be tested primarily with VBFT. They have also implemented PoW based consensus modules.
Implementation of several SDKs facilitating use of several languages: They have several modules such as JAVA SDK, a WASM virtual machine written in Go language, Type Script SDK, FPGA implementation of computation-intensive logic, various cryptography basic function modules in place which will help businesses tackle issues without having to understand all the core principles of blockchain. A similar analogy can be creating a website using jquery without fully understanding javascript in depth. Also ONTology facilitates writing of smart contracts in several different languages such as C#, Java, Python, JS, RUST, Go, and so on. The main advantage of this is that existing business's tech team won't have to learn a new language to implement blockchain in their company.
Implementation of several cross-chain services: Many businesses will require cross-chain services to solve their unique problems. It is difficult for cross-chain services to solve all application scenarios through a single protocol. That is why ONTology has implemented different levels of cross-chain: Business-layer cross-chain, Asset/transaction-layer cross-chain, Consensus-layer cross-chain.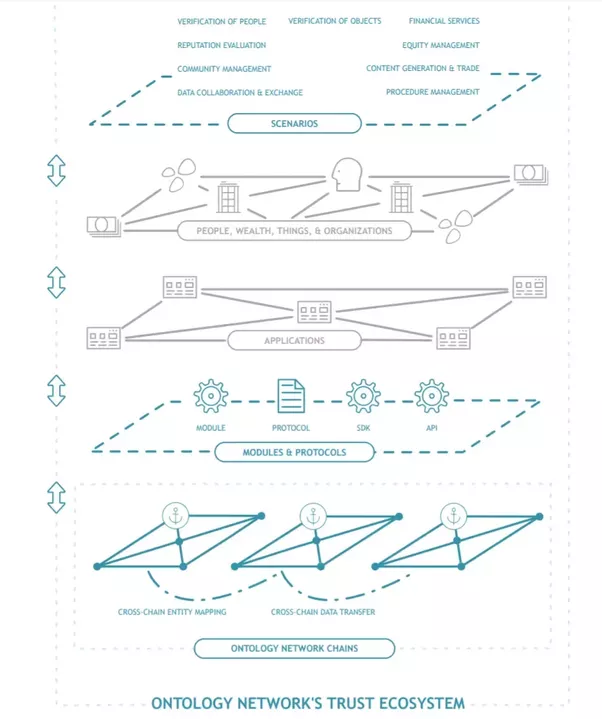 With the overview above, one thing which is crystal clear to us is that the ONT team has in-depth knowledge of what problems they have at hand and how they are going to solve them. If you want to dig deeper into the details of ONTology's technologies, go ahead and give these articles a read:
Clear description of what technologies are being currently developed in Onchain
Product Development and Growth: In my opinion growth is directly proportional to price fluctuation of a crypto. If a coin has shown considerable growth in the past and have a clear roadmap ahead then you should consider it as a good investment. Onchain was working with many businesses way before launching their token ONTology.
How long have they been working on the project?
Onchain started their journey back in June, 2016 and since then they have been associated with many partnerships and with big names. Nowadays we see many ICOs raising funds without even a minimum viable product but Onchain created many complete blockchain solutions for Ali Cloud, Fosun group and worked with the Japanese Ministry of Economy, Trade and Industry even before launching their own token.
How active is their Github repository?
Normally we compare how much a coin's github repository is active by indicating how much they are ahead or behind their competitors. But we cannot do it for ONT because they made their code open-source only a few months ago and ONTology's first projects were announced on 30th March only. One thing I would like mention here is the speed with which they are progressing, I was following their Github repository closely for the past 10 days and most of their 17 repositories are being updated daily multiple times.
Were they able to deliver what they had promised in the past?
Well, since June 2017 to October 2017 they have been developing private blockchains for private companies and government organizations, hence it is impossible to determine whether they have been able to deliver in a timely manner. Having said that, they have been able to raise funding repeatedly during this year-long span so they must delivered at least 60% of they had promised to those organizations, otherwise it wouldn't have been possible to raise further funding rounds.
Roadmap: They released their first roadmap on the 13th of April,2018 where they have provided an elaborate description of what they are trying to achieve in 2018 and also a clear overview of their plan for the years,2019 and 2020. We must closely monitor them and see how much they can achieve in the coming few months. I will update this post every now and then with recent developments regarding ONTology so keep visiting to receive updates.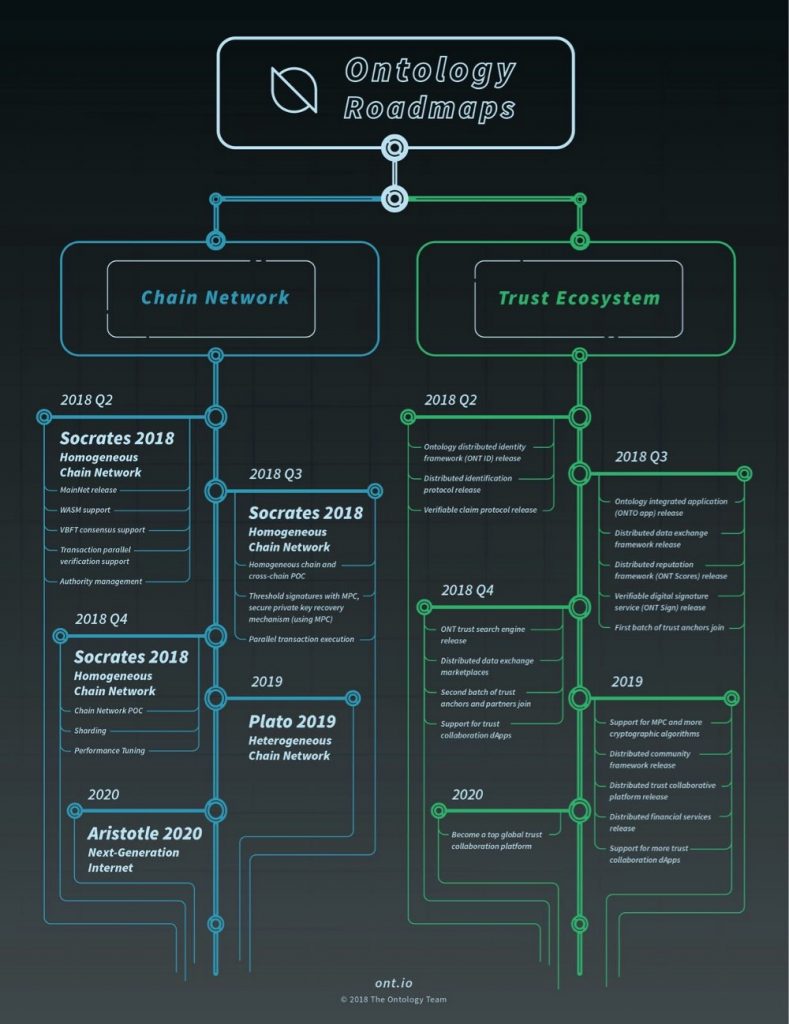 Why should ONTology even exist when there is NEO?

This is a very important question that should always be answered whenever you are considering to invest in a coin. If an already existing coin can solve a problem efficiently then we should never need another coin to solve that particular problem. NEO already enables creation of dApps then what is the need of ONTology? The main answer can be found from the interview of co-founder Da Hongfei: "There was an increasingly high demand and growing number of requests from B2B enterprises that aimed to incorporate blockchain technology, within a specific industry climate, to accomplish industry specific tasks. Initially, the Antshares team was tasked with providing these solutions to the companies. Over time, we realised that this should be an independent endeavour that focused on B2B enterprise blockchain services. This eventually led to the establishment of an independent company, Onchain, with the prerequisite legal and financial frameworks. The difference between Onchain and NEO is the focus on the creation of private and consortium blockchains, through the DNA architecture. Rather than creating a general purpose, public blockchain, which NEO is, DNA focuses on creating blockchain architecture that can be replicated to meet specific industry needs. " You can read the full interview here: https://neonewstoday.com/interviews/translation-of-da-hongfei-interview-on-fosun-investment/

There are three prominent reasons provided by ONTology team in their Reddit AMA thread about "why would the dApp not be made on NEO"?

It's too big a leap of faith for business, financial institutions, and governments to use NEO (or Bitcoin, Ethereum) to store sensitive identity information, let alone  be compliant with laws and regulations designed for pre-blockchain world.
It is not economical and scalable to use NEO as an identity service for each and every scenario. This is also why Ontology is designed as a network of blockchains, not one single blockchain. The multiple interoperable blockchain network design makes Ontology highly scalable and each blockchain can adopt independent governance model to be compliant in its own jurisdiction.
Ontology works as an index of identity and data. Applications can choose to run business logic smart contract on Ontology or NEO. Some applications may not be built as a smart contract but as a traditional IT system by simply accessing Ontology's business-oriented APIs.

Here is the link to the full Reddit AMA thread. ONTology has set out to solve a completely different problem which cannot be solved using NEO's public blockchains but at the same time it has the advantage of using NEO's architecture whenever it is required.

Responsiveness and Community engagement: A coin's long-time success rate largely depends on it's marketing team's effort. Here I have a real observation and this marketing strategy, according to me, is really clever. The ONTology team is not only using their own social media channels to promote ONTology developments but they are also utilizing NEO's already existing huge communities! They seem to host AMAs on NEO's sub-reddit and continuously provide updates on NEO's other social networks(eg. NEO's twitter handle). I am providing all the social following statistics of ONTology below(at the time of writing):

Facebook followers: 2967

Twitter followers: 39.7k

Telegram: 28881

Discord: Very active community and instant access to their community

Medium: They are very active in medium and regularly provide updates for all the partnership announcements, inclusion of key people in the team via their medium blog.

Exchange Listings: Neo started trading on March 8th this year and it got listed directly to reputed exchanges like Binance and Huobi. Till today ONTology is being traded in 8 exchanges and most of them are reputed. Being listed in 8 exchanges within a month is quite an achievement and it is very important from a trader's aspect as you need some place to spend your tokens. The full list of exchanges is as follows:

The Numbers: As mentioned earlier, the coin ONTology was introduced during October last year but it was listed out in Coinmarketcap on March 08, 2018 when it started trading in Binance and Huobi. On that day the price of 1 ONT was equal to $2.62 and at the time of writing it is $4.38(April 14th) So there is almost 67% growth shown by ONT coin within a month and a half.ONT was airdropped to NEO holders in March 2018. From this airdrop, 20 million ONT were distributed to the community by the NEO Council and ONT management had announced that there will be a max supply of 1 billion ONT tokens. As of today the total circulating supply of ONT is 241 million USD which is 1/4th of the maximum supply. Current market cap of ONT is more than $1 billion and ONT is the newest entry to the billion dollar club in the crypto world. Out of the total 1 billion circulating supply 53.75% is unlocked and will be available for trading in the future. ONTology people have provided a clear distribution of their tokens in their blog. I am providing a gist of it below:

Ontology Community: 12% (12% is tradable)
Institutional Partners: 28% (6% is tradable)
NEO Council: 10% (10% is tradable)
Ontology Ecosystem Development: 25% (12% is tradable)
Ontology Technical Community Reward: 10% (10% is tradable)
Ontology Core Team: 15% (3.75% is tradable)

Ontology also uses a dual token system as NEO (ONT and ONG). Currently ONT is a NEP-5 token and does not release GAS. But after the launch of Ontology's MainNet(scheduled to be launched in Q2 2018), users will be able to exchange NEP-5 ONT for ONT on the Ontology MainNet, which will start to release ONG periodically. So ONT token holders will receive incentives in the form of ONTology GAS. We have tried to cover almost everything you need to know about ONT numbers.

The whole concept of blockchain has become more relevent after the Facebook data breach. It is encouraged that every application should implement their technology in such a way where we, as users, feel protected. This is where the application of ONT coin becomes very important as it encourages and helps all the existing businesses to implement blockchain to ensure data privacy and identity. Having said that, you should always conduct your own due diligence before investing in any coin as it is your hard-earned money and always remember this is not at all an investment advice. Next week I will be back with another coin, if you want me to write about some particular coin please let me know in the comment section. Lastly don't forget to subscribe to our weekly newsletter to receive all the updates about more coins and SHUFFLUP.

Written by

The SHUFFLUP Team

A group of traders who love to code and build cool tools to help out fellow traders and research about new coins in search of investment opportunities.